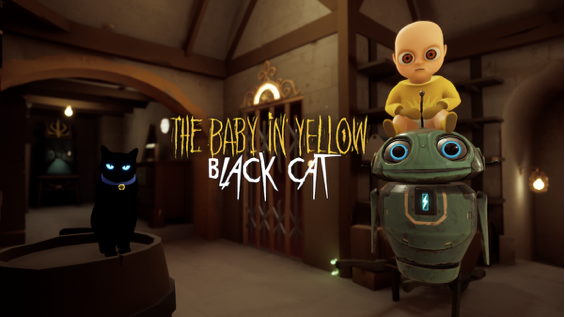 Dundee, Scotland, May 26th, 2023 – Scottish indie developer Team Terrible has today announced The Black Cat, the major content update for their highly popular game The Baby in Yellow, is now available on iOS, Android and debuting on Steam via Early Access!
"The Black Cat Update represents an incredible wealth of new playable content, including three new chapters, an abundance of puzzles, and hidden lore," said Greg Lee, CEO of Team Terrible. "This highly anticipated update not only effectively doubles the game's length, offering players an extended and immersive experience like never before, but also marks the exciting debut of The Baby in Yellow on Steam. Bringing our game to Steam opens up new horizons, allowing a wider audience to discover and enjoy the thrilling world we've crafted."
Embark on an unprecedented journey into the depths of the unknown with The Black Cat update. Follow the enigmatic black cat that has transported you to a realm surpassing your wildest nightmares. Traverse through a bizarre and haunting world, aided by your new robotic companion, Newt. Together, you must navigate twisted landscapes, solve intricate puzzles, and uncover the dark origins of The Baby. However, tread carefully, for The Baby relentlessly pursues you, stopping at nothing to fulfill its desires. Will you endure this treacherous odyssey alongside the Black Cat, or will you succumb to the terrors that lie in wait?
The Baby in Yellow has already captured the hearts of countless players, and its release on Steam Early Access is set to expand its reach even further. With the forthcoming release of The Black Cat update for iOS, Android, and Windows, Team Terrible aims to enthrall gamers with a hauntingly captivating experience that pushes the boundaries of imagination and challenges the very limits of survival.
About The Baby in Yellow
In this hit Lovecraft-inspired babysitting game, play as a childminder looking after a baby who is possessed by a demon trying to thwart your endeavours. In a bizarre mix of comedy and horror, with enriching lore embedded in the background, brave five nights of uncanny behaviour and unravel the mysteries behind the erratic toddler. Originally created in 48 hours for a Game Jam back in 2020 by two ex-Rockstar devs, The Baby in Yellow has become a viral success, achieving an impressive 150 million downloads across Android, iOS and PC.
About Team Terrible
Formed from a love of gamejams and a desire to do something different, Team Terrible is an independent studio of ex-AAA game devs based in Scotland. Their first IP 'The Baby in Yellow' has achieved viral success with content creators and over 150 million downloads across iOS, Android and Windows. Team Terrible strives to create unique, interesting player experiences and believes in individual creative freedom within the studio, working together to create terrible things.