Eggy Party's Playground Of Wonders Season Event Brings All New Fun & Finery To The Game Today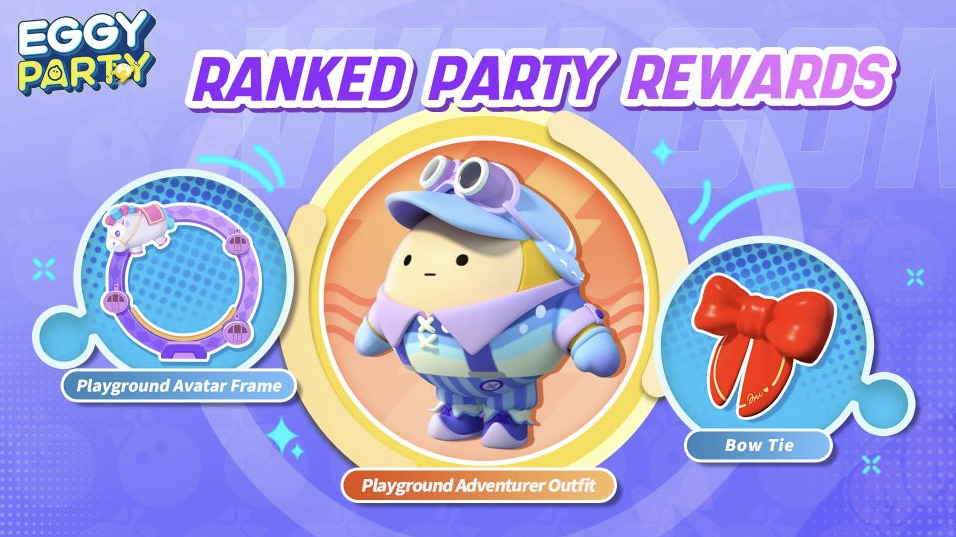 NetEase Games, the online games division of NetEase, Inc. (NASDAQ: NTES, HKEX: 9999), has announced that the second seasonal event for Eggy Party has kicked off today, as the Playground of Wonders officially begins on May 26th. This event introduces new minigames, outfits, and fun activities for players to participate in as they unlock exclusive gear for their Eggies.
Playground of Wonders Season Official Video: https://www.youtube.com/watch?v=cqYHcPfQ8jA
Eggy Party is a fun party game for mobile devices, where players take part in frantic minigames while trying to survive each round and make their way to the finals. The stages in Eggy Party are designed to test your skills, but that doesn't mean that you'll be inhibited by using a smart device, as the game's control scheme was designed with mobile in mind, making for a comfortable and precise experience, even in the most hectic of levels.
Playground of Wonders Season Preview: https://www.youtube.com/watch?v=qGHPAOIF594
"The launch of our new season is a great opportunity to thank our active players once again for celebrating this party with us," says Matt Liu, Head of NetEase Games Overseas Publishing. "All of this would not be possible without them and their dedication and creativity, especially during our recent Creator Contest, is simply amazing. The game's upcoming global release will add so many more Eggies to this lovely community and we can't wait to share what else we have in store for Eggy Party!"
Eggy Party is also about customization, as you get to deck out your adorable Eggies in all manner of cute and ferocious outfits to stand out from the pack. The customization also extends to the stages, as the Eggy Workshop allows players to create and share their own maps and gameplay modes, allowing them to show off their creativity and put the competition to the test.
The Playground of Wonders season has begun and will run until June 30th. This new season will introduce 20 new stages to the game, including Ghosts in the Shell, Block Party, Bean-eaters, and Circle of Doom. Participating in the Playground of Wonders will allow players to engage in seasonal activity tasks, including gathering collectibles to obtain Balloon Stickers and redeem them for rewards. Additionally, there are also Season Ranking Rewards for players to aim for, allowing you to earn gears like the Playground Adventurer Outfit, Bow Tie accessory, and the Bow Tie Avatar Frame.
In addition to these rewards, the Playground of Wonders season also offers exclusive Eggy gears that can be unlocked through Season Mystery Boxes including outfits like the Ringmaster, Sheetz, Captain Crab, and more!. A Party Pass is also available during the season, with its exclusive Party Pass activities and free rewards, such as the Forest Outfit. For those who want even more bonuses, the Advanced Party Pass offers even more exclusive bonuses, including the Moo-moo, Waddle, Pony outfits, and Shiny Coins and Egg Coins.
The Playground of Wonders is the first new Eggy Party event to begin following the announcement of the game's global release. That's right, Eggy Party has announced that it will soon be available worldwide at the NetEase Connect 2023 event that took place last weekend, bringing the game to countless new players around the world. In the meantime, players in the Philippines can get in on the ground floor and load themselves up with exclusive gear and enjoy one of the most eggcellent games of 2023.
To learn more about Eggy Party, visit:
Official Website: https://www.eggyparty.com/
Twitter: https://twitter.com/eggypartyglobal
YouTube: https://www.youtube.com/channel/UCK0y3Dls7q62xvKyiHLvUeA
Facebook: https://www.facebook.com/EggyPartyGlobal/
Instagram: https://www.instagram.com/eggypartyglobal/
TikTok: @eggypartysea2023
Discord: https://discord.gg/eggyparty