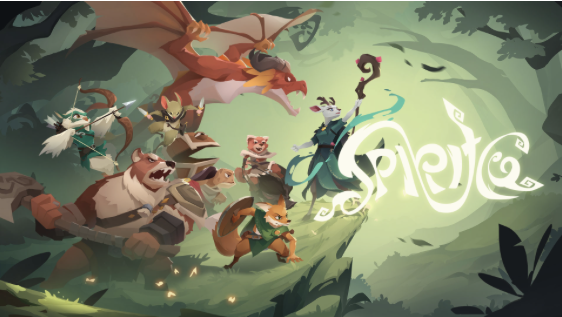 Shenzhen, China – 2nd June 2023 – Chinese indie outfit Fabled Game Studios, the creators behind the popular roguelike card game Pirates Outlaws, has today premiered the first gameplay trailer for their upcoming four-player turn-based strategy digital board game, Spiritle. Learn more about the mechanics and tactics needed for victory, then watch the new character spotlight introducing Sionnach, the Valiant Fighter, in the first of four videos showcasing the playable Spirits in the game.
In Spiritle, control a Spirit of one of the four elements, Nature, Earth, Water and Fire, in an attempt to beat opponents and regain your place in the World Tree. Once a Soul falls from the World Tree, it incarnates an animal and becomes a spirit of the forest devoted to its element. Choose from this cast of dynamic characters each with their own strategy and abilities to use in play. After selecting a Spirit, their skills and equipping a ring, deploy your character and move onto the board to open tiles and reveal new lands. If two identical lands are paired, players can attack and gain advantages against their foes. Spiritle is easy to pick up but difficult to master – victory will only come to the most cunning strategist.
Challenge your opponents in a variety of different modes including Classic battle, a competitive matchmaking mode with ranks to climb; the seasonal Cooperative mode for chaotic 2v2 action; and a Custom mode to play privately with friends. The World Tree is binded with seasons, with the release season of Earth presenting the tree of Brutality. With eight Spirit characters to choose from and four fully functional seasons to battle on, as well as each season's World Tree passives, champion the board and become the ultimate tactical gamer!
Sionnach, the Valiant Fighter, is a fox and a spirit of nature, devoting his life to protecting his element. An easier spirit to master, Sionnach has two skill slots to fill from his six abilities. Players must choose one from the three skills in each slot to form a devastating combo to gain tactical advantages against your opponents. Use 'Flair' and 'Ruse' abilities to reveal tiles and pair lands, then strike against opposing spirits either up-front using 'Stance Pose', or with some skill damage using 'Seeding' and 'Slash'.
About Fabled Game Studio
Fabled Game Studio is a nine-person game development team based in Shenzhen, China. Founded in 2018, with the intention to promote and develop Chinese creativity in indie game development, Fabled Game Studio aims to become internationally renowned in the games industry. Currently available on iOS, Android and PC (Steam and Epic), Pirates Outlaws also launched on consoles in Spring 2023.