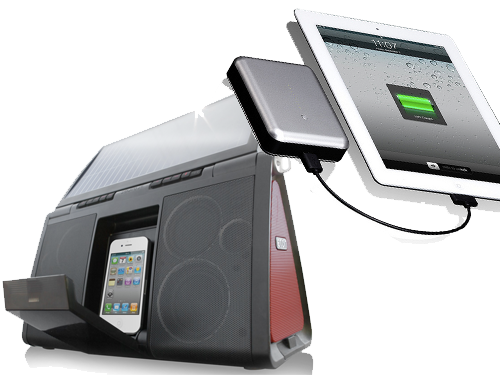 Download and listen here
Subscribe in iTunes
Power your portable iOS audio speaker system using the rays of the sun. Then charge your iOS devices using portable high-capacity USB batteries. Listen to Nemo's personal experience with Eton's Soulra and Soulra XL, and with Just Mobile's Gum Plus and Gum Max. Then enjoy your solar and mobile charging equipment in the great outdoors.
Eton Soulra XL and Eton Soulra [Original]
Eton Corporation
Under $250 and under $150 U.S. online
Gum Max and Gum Plus
Just Mobile
Under $100 and under $60 U.S. online
Sam Negri's MyMac review of Soulra XL.
Our January AppMinute podcasts are sponsored by Rogue Amoeba Software. Check out Audio Hijack Pro, Fission, and their other audio software here.