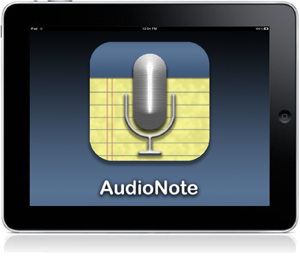 AudioNote combines the functionality of a notepad and voice recorder to create a powerful tool that will save you time while improving the quality of your notes!
By synchronizing notes and audio, AudioNote automatically indexes your meetings, lectures, or study sessions. Â Need to review the discussion about deliverables on your next project? Trying to remember what the professor had to say about a key point? With AudioNote there is no need to waste time searching through the entire recording to find out. Each note acts as a link directly to the point at which it was recorded, taking you instantly to what you want to hear! Didn't take any notes during the meeting? No problem, you can add them later!
A fully functional note application, AudioNote also increases the value of your notes. Watch as your text and drawings highlight during playback, helping you to remember the context in which they were taken.
With the convenience of the iPad or iPhone, you can use AudioNote anywhere: meetings, interviews, conferences, lectures, study sessions. Even use it to record memos to yourself as you jot down new ideas!
$4.99