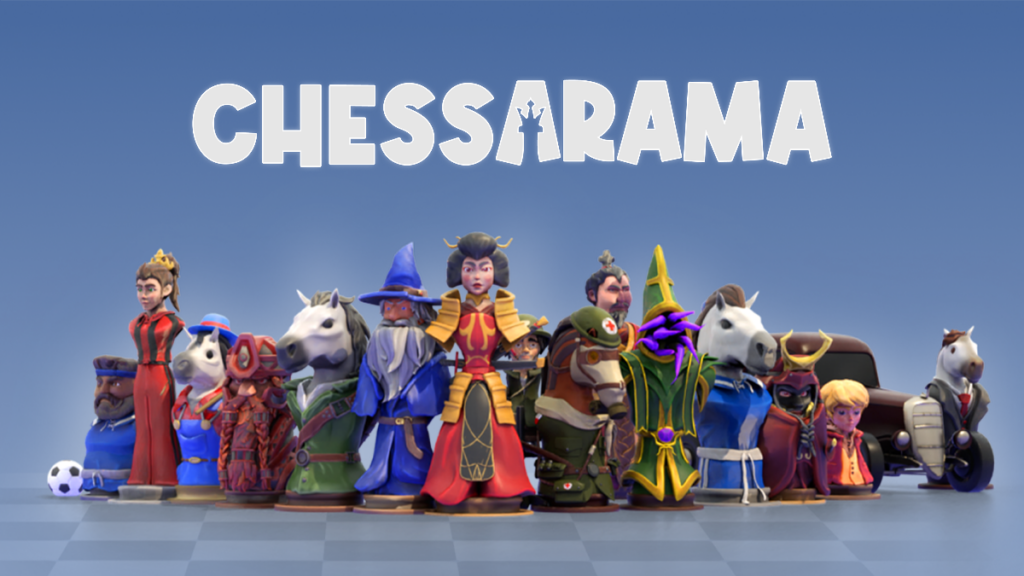 Developer Minimol Games in partnership with SMG Studio are pleased to announce that Chessarama, their unique anthology of original chess-inspired puzzle games, will launch on PC and Xbox platforms this Fall. Prepare to reimagine chess as you never have before, with more than six single-player variations of the classic board game that will force veteran chess aficionados to rewire their brains while also training new players to think like a chess master!

Chessarama is a smorgasbord of chess-inspired single-player games that use chess pieces and their established move sets, then reimagines their goals and themes. Choose a game, quickly learn its rules and play through the campaign, unlock collectibles, and compete against each other on the leaderboards. Endless replayability awaits you. Welcome to Chessarama!

Each game has its own theme, set of rules and original handcrafted levels for you to play! In Dragon Slayer, players must move a pawn to the end of the board where it can slay a mighty dragon, though the dragon attacks the board after every turn, obliterating any unprotected piece. In the feudal Japan-set Lady Ronin, the chess Queen must eliminate every piece on the board in order to get close to the Shogun and assassinate them. And in Soccer Chess you must position your pieces in pursuit of kicking the ball into the goal. Try all these and several more original chess-inspired puzzle games in Chessarama!
Features:Play all original and exclusive chess-inspired games available in ChessaramaLearn and practice many chess skills: strategic thinking, tactics, visualization, grid geometry and much moreUnique art style comprised of beautiful dioramasHigh replay value with online leaderboardsLearn chess movements, tactics and strategies through a modern video game experienceAlso includes "vanilla chess" for oldschool purists
Chessarama is partnered with Chess.com to be an official sponsor of the world's top online chess tournament, Champions Chess Tour for the remainder of the 2023 season.
"I've been a huge fan of chess since I was a teenager and Chessarama is my way of giving chess fans an all new way to play the timeless game while also making chess accessible to newcomers who are intimidated by this age-old game" said Raphael Dias, CEO and Game Director at Minimol Games. "Chessarama is truly for everyone, whether you're a chess expert or have never played before. Any fan of puzzle games should get a kick out of the various puzzle games included in Chessarama when it launches this Fall."

"The first time we played Chessarama's prototype we were smitten by its clever take on the classic game of chess" said Ashley Ringrose, Studio Head at SMG Studio. "Each game is easy to learn but hard to master, making it perfect for players looking to first solve a puzzle, and then perfect their technique by trying to do it in as few moves as possible. Those new to chess will learn a lot also."
For more information on Chessarama:
Wishlist on Steam: https://store.steampowered.com/app/1831830/Chessarama/
Visit Minimol Games' official site: https://minimolgames.com/
Visit SMG Studio's official site: https://www.smgstudio.com/

About Minimol Games
Minimol Games was founded in 2019 by Raphael Dias, a young Brazilian developer with a Ph.D. in Physics, who created the company with the mission of developing smart puzzles, beautiful dioramas, and innovative high-quality games. After launching 30 tiny puzzle games with over 250k copies sold – and an average positive review ratio over 85% – Minimol Games is developing their most ambitious title to date with Chessarama, a collection of original chess-inspired turn-based games with their own rules, dioramas and designs.

About SMG Studio
SMG is dedicated to producing games with original and licenced IP for all platforms. With studios in Sydney, Melbourne Australia and Los Angeles in the US.