Bracketron Universal Tablet Audio Headrest Mount
AppMinute Podcast #202
November 21, 2011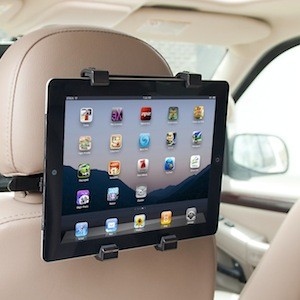 Listen to the show here
Subscribe in iTunes

Universal Tablet Auto Headrest Mount
Bracketron
$40 US
Does it really work? Listen to Nemo's short rant and learn if it does.
Bracketron's "universal" iPad and tablet auto headrest mount clamps an iPad in place, then (is supposed to) with two snap-hooks lock the plastic mount to a car's headrest posts. The $40 US price is reasonable if your car is compatible.
This podcast is sponsored by Prosoft Engineering's new DriveSlim, available for $19.99 US in the Mac AppStore.